Word of the fortnight
Sorosoro is creating an A to Z in all the languages of the world. We need your help!
Find here all the videos from our field filming program, brought together either by language, topic or event. Feel free to drop by now and then as we add new footage every week!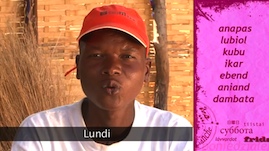 All Sorosoro videos :

See videos & comments

Access our YouTube channel
Sorosoro, December 14, 2011
At the heart of Sami land (Lapp)
Sorosoro, December 6, 2011
Celebrating three-year old Sorosoro!
Sorosoro, November 30, 2011
Back to the Maya

See all Sorosoro news
Writers, poets, journalists and all kinds of authors have written on their love for languages and the necessity to protect linguistic diversity. Here are a few selected texts.

Read more